CHEMISTRY:
METAL SPRAY
---
Our Metal Spray is a unique, dual-component water-based silver nitrate solution that is applied using a specialized dual-nozzle spray gun. Applied directly over Spectra Chrome Basecoat 812-E; the silver layer quickly builds to a brilliant, perfect-mirror shine. A perfect show-chrome finish is easy to achieve!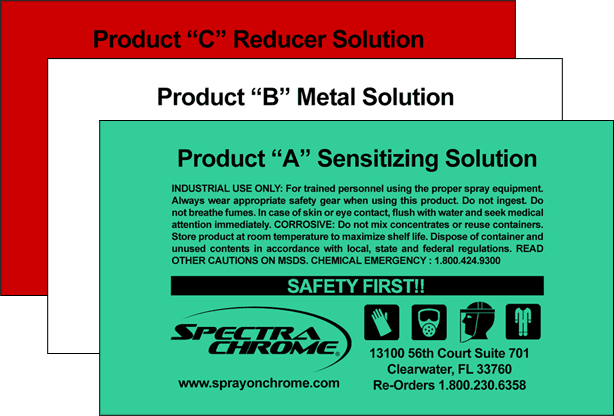 ---
WATER-BASED METALIZING CHEMISTRY
Our proprietary silver nitrate-based Metal Spray formula consists of three concentrates – A, B, and C – which are mixed with de-ionized water and sprayed through their respective spray guns. We've developed and refined our metal spray solutions over 10 years to deliver an unmatched mirror shine!
Fast deposit rate with improved coverage and fill capabilities
Enhanced reflectivity with mirror-like brilliance and shine
Requires minimal tinting to achieve perfect chrome appearance
Clean solutions leave no residues in pressure tanks
---
CONCENTRATED SILVERING SOLUTIONS SAVE MONEY!
Don't pay to ship water! The A, B, and C silvering solutions are provided in concentrated form. This reduces weight and minimizes the cost of shipping. Simply add de-ionized water to the solutions right before use.