DYNAMIC STAND

MOUNTING SYSTEM
---
We created the Dynamic Stand Mounting System to be the most efficient way to mount and hold any workpiece during the Spectra Chrome process. As workpieces can vary wildly in shape and size, many applicators often resort to building custom mounts for each workpiece they spray! Dynamic Stands securely mount to any part quickly and easily in just seconds, saving valuable production time and increasing productivity. They will quickly become integral to your workflow!
---
Our high quality Dynamic Stands are conveniently designed to be "press-locked" into the Spectra Chrome turntable; and are engineered to resist corrosion, solvents, and baking temperatures. There is no other mounting system on the market made specifically for the spray-on chrome process. If you truly want to maximize the efficiency of your Spectra Chrome operation, you'll appreciate the versatility of the Dynamic Stand mounting system every time you spray!
DYNAMIC STAND
KEY FEATURES
---
THE ULTIMATE MOUNT

FOR ANY PART!
Infinitely adjustable – accommodate parts of any size and shape with multi-flex arms and ball-and-socket swivel action joints.
Specially designed for the Spectra Chrome process – "press-lock" foot pegs securely lock into the square hole grating of HV-T and turntable.
Reusable – heavy duty 3M adhesive pads quickly and securely adhere to parts of any substrate type.
Can be used during all stages of the coating process – resistant to corrosion, solvents, and baking temperatures.
Increases productivity and saves time – you'll never have to spend time figuring out how to mount your workpiece.
All 3 sizes included – small, medium, and large.
DYNAMIC STAND
MOUNTING SYSTEM
Part # SCP-505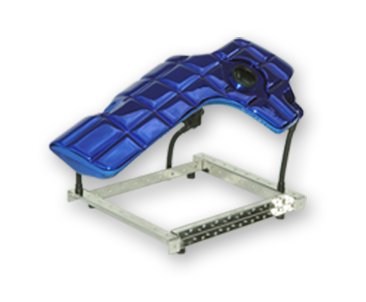 DYNAMIC STAND
MEDIUM
(Corvette fluid reservoir)
DYNAMIC STAND
SMALL
(Minibike fairing)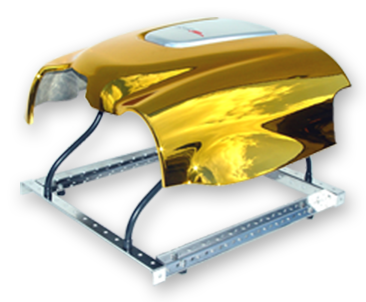 DYNAMIC STAND
LARGE
(Chevy SLR engine cover)