"Spray-on" chrome is a revolutionary paint technology, pioneered by Spectra Chrome over 15 years ago. Spectra Chrome's three-layer "spray-on" chrome finish consists of a layer of real silver metal, deposited between two layers of specially formulated solvent-based paint.
Spectra Chrome is applied in three sequential steps:
A specially engineered white basecoat is applied to the workpiece. The basecoat is applied just like traditional paint, using an automotive spray gun like the IWATA WS400.
A unique water-based silver layer is applied, using Spectra Chrome's specialized equipment. The silver layer lays down flat and builds up to a perfect mirror reflection.
An ultra-durable marine grade clearcoat is applied over the top of the silver layer; "sealing" the finish and providing incredible UV resistance and durability. The clear topcoat can be tinted to any shade of the spectrum!
Yes! Our paint formulations have been refined and perfected over 10 years of intense research and development. We've subjected Spectra Chrome to the harshest tests and conditions we could find. The result is a proven, ultra-durable finish that is engineered to last. The final Spectra Chrome finish is just as durable as an OEM automotive finish – it will hold up just like the paint on your car.
Most amazing of all, Spectra Chrome is the only chrome product in existence that remains completely flexible on substrates like vinyl and polypropylene.
There is simply no other product on the market with the proven durability of Spectra Chrome. Take a look at our super adhesion videos to see just how tough the Spectra Chrome finish is! Proven UV resistant topcoat formulations mean that Spectra Chrome will never yellow or fade in the sun – and amazing intra-layer adhesion prevents chipping, peeling, or flaking.
But don't just take our word for it – order your Spectra Chrome sample package and prove the uncompromising quality of our finish for yourself!
Yes – Spectra Chrome's silver layer is a unique, multi-component water-based solution that is applied using a specialized, dual-nozzle spray gun. Two solutions mix in front of the gun, producing a pure silver mist.
Spectra Chrome's basecoat and topcoat layers are applied using traditional automotive-style HVLP paint guns.
We make it easy to select a complete system and coating package that fits the needs of your business, with clear and upfront pricing. Take a look at some of our most popular options below. Feel free to reach out to us as well – our representatives are happy to discuss your needs in detail and help you find the perfect solutions for your business.
The LI start-up package contains our Light Industrial (LI) model and a 500 square foot coating package. It is a great introductory system for new customers getting involved with Spectra Chrome.
Combining our most popular HV-T System with a coating package 5 and valuable turntable and rolling base, the HV-T start-up package is the most common order for new Spectra Chrome customers.
Ready to move up to high volume Spectra Chrome production? The HV-T Pro Package includes every option and accessory we offer; allowing you to take advantage of every Spectra Chrome market!
Applying the finish inside a spray booth or other clean environment will produce the best results, by keeping dirt and other contaminants out of your finish. However, a large commercial spray booth is not mandatory – many customers construct their own spray booth system, providing adequate ventilation and removal of overspray created during the process.
On the other hand; customers that specialize in spraying bones, sea shells, wood, and other textured surfaces don't have to worry about contaminants in their finish. Textured substrates easily hide dirt or dust particles that may be present. For these kinds of workpieces, one Spectra Chrome customer stated that he could even "spray in a sand box and kick dirt in his paint job and no one would notice!"
When coated with Spectra Chrome, sand looks like a barnacle on a sea shell, or an existing nodule in wood grain; or a natural protrusion in bone structure. Any dirt and contaminants simply "blend in" to the finish when coating textured surfaces.
Yes – In addition to your Spectra Chrome system and coating package, you will need:
An air compressor with an output of 15-25 CFM
An air drying system (installed at the output of your compressor), to ensure your air is free of moisture and contaminants. We recommend the DeVilbiss DAD-500.
An automotive HVLP paint gun (for applying the basecoat and topcoat). We recommend the IWATA WS400.
A de-ionized water filter, to ensure perfect quality water.
Spectra Chrome's unique silver solutions are water-based. The better the quality of water used for silver solutions, the better the quality of the final finish. Distilled water does not always have the purity of de-ionized water. Because of this, it is not recommended for use in the Spectra Chrome process.
The quality of store-bought distilled water depends on when and where it is purchased. Most distilled water has a Totally Dissolved Solids (TDS) reading of .001 to .009. High quality de-ionized water always has a reading of .000.
The importance of quality water can't be overemphasized – investing in a DI water filter is the most economical way to produce perfect quality water any time it is needed during the process.
On average, the material cost to apply the complete Spectra Chrome finish is less than $5 per square foot – all three layers applied.
When spraying Spectra Chrome as a service, many of our customers charge between $125-$170 per square foot. Because this finish is so unique, our customers often find that they can charge whatever they like, across a vast range of markets.
While having prior painting experience certainly helps (the rules you learn as a painter are exactly the same for Spectra Chrome), about 15-20% of new Spectra Chrome customers have never painted before.
Our company's success is built on the success of our customers – that's why we make it easy for new customers to learn how to apply this finish and achieve professional results! Come down to Florida and attend a hands-on training class, and learn to spray Spectra Chrome under the guidance of our master trainers who spray this process every day.
We also offer a totally comprehensive Training Online module, exclusive to Spectra Chrome customers. And if you'd like personalized, one-on-one instruction in your own shop, our master trainers can even travel anywhere in the world to come to you.
Yes – Spectra Chrome is a paint finish, and is therefore an extremely environmentally-friendly alternative to traditional tank plating.
Spectra Chrome's metal spray solution is a water-based silver formulation that contains absolutely NO hexavalent chromium. Runoff solutions are conveniently collected in jugs below the HV-T spray table basin.
Spectra Chrome customers automatically become part of a precious-metal recovery program – we work with a company who will extract the valuable silver from collected runoff solutions and give you cash back. Since all runoff is collected and not discharged into the environment, there are no environmental concerns with Spectra Chrome.
Generally, any substrate that can be painted can be sprayed with Spectra Chrome. Of course, because it is a paint finish, Spectra Chrome is not suitable for extremely high-heat applications such as engine manifolds or exhaust pipes. Maximum temperature range for the finish is 211° F (99.4° C).
The silver layer is applied in a multi-step water-based process that requires rinsing with de-ionized water between steps. Because of this, the substrate must be able to be wet and then completely blown dry immediately after the application. Cloth, fabric, and other absorbent materials are not suitable for Spectra Chrome, since it is impossible to properly rinse and dry the substrate.
However, we illustrate how money can be sprayed with Spectra Chrome; because the basecoat provides a water-tight seal over the absorbent paper.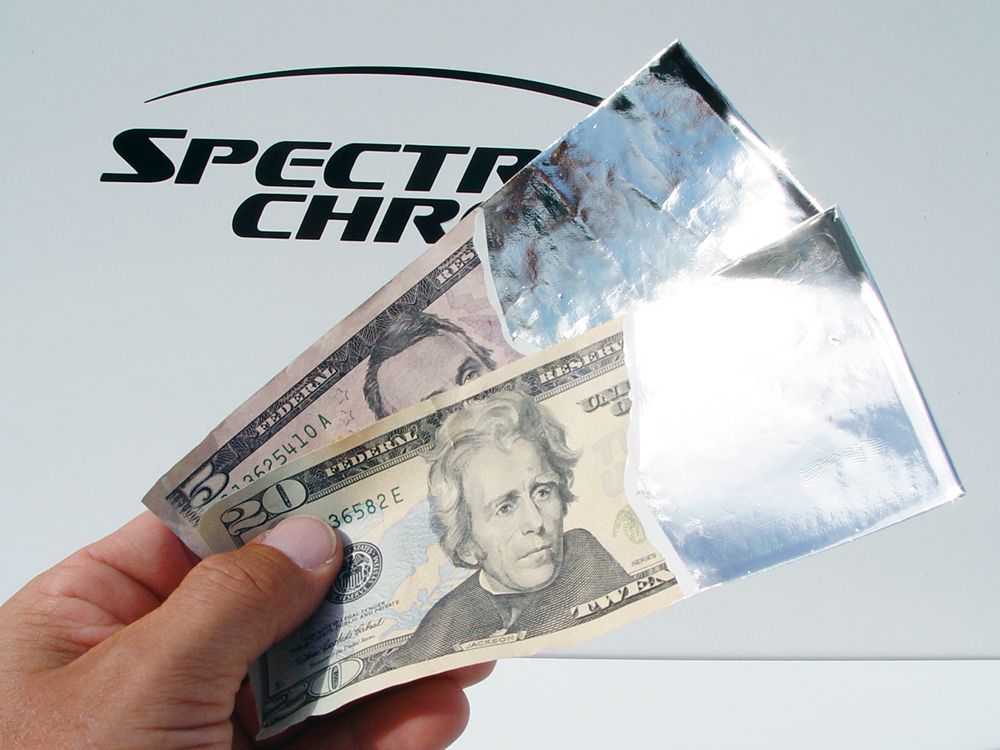 The spray-on chrome market is booming; and there is always an abundance of customers and businesses looking for spray-on chrome services. When companies contact our office looking for service work, we refer the projects to our customers all the time.
New York-based OTG Hospitality Group approached us seeking a Spectra Chrome finish for a new 3,000-square-foot restaurant concept, to be installed at Houston's George Bush Intercontinental Airport (IAH). We referred this huge job to our customers, Michael and Heather Kowalski of Houston Chrome – and the results are simply stunning!
We also offer our customers strong marketing support to help jump-start your service business. When you become a Spectra Chrome customer, you can take advantage of the many resources we make available:
Access our growing image archive; featuring hundreds of parts coated with the Spectra Chrome finish. Populate your website or company Facebook page right away! Make it look like you have been in the spray-on chrome business for years, and give your customers ideas of how their products will look with your finish.
Use our Blu-ray quality videos to promote your service work in dozens of proven markets. We now offer a video presentation promoting service and chroming capabilities of the Spectra Chrome finish. Play it at swap meets, trade shows, and other point-of-sale marketing locations.
Place our high-resolution images into magazine and news ads promoting your unique service work. Don't be afraid to ask us for any images you see in our extensive gallery and gallery archive. They are there for you to utilize for your success!
Create point-of-sale marketing tools right from the beginning: Our comprehensive Training Online first walks you through learning how to spray on practice tiles. This is the best way to get familiar with the proper application of the Spectra Chrome finish. Once the tiles are done, they can become an instant and very effective marketing tool for showing new customers your amazing finish.
Still have questions? Let us know how we can help:
(800) 230-6358 or E-MAIL US