SPRAY CHROME OF ANY COLOR
SPRAY CHROME OF ANY COLOR
OVER ANYTHING!
---
Spectra Chrome has perfected the "spray-on" chrome process – and we can prove it! Over 10 years of research and development has produced a coating performance that is trusted by the world's most discerning companies, across a huge range of market applications.
Please let us earn your business and show you how it's done – attend our certified training classes in Florida or California. Learn how to apply this finish from professional trainers who will guide you through every step of the process.
Let us show you why Spectra Chrome is the worldwide leader in "spray-on" chrome!
---
HOW DOES IT WORK?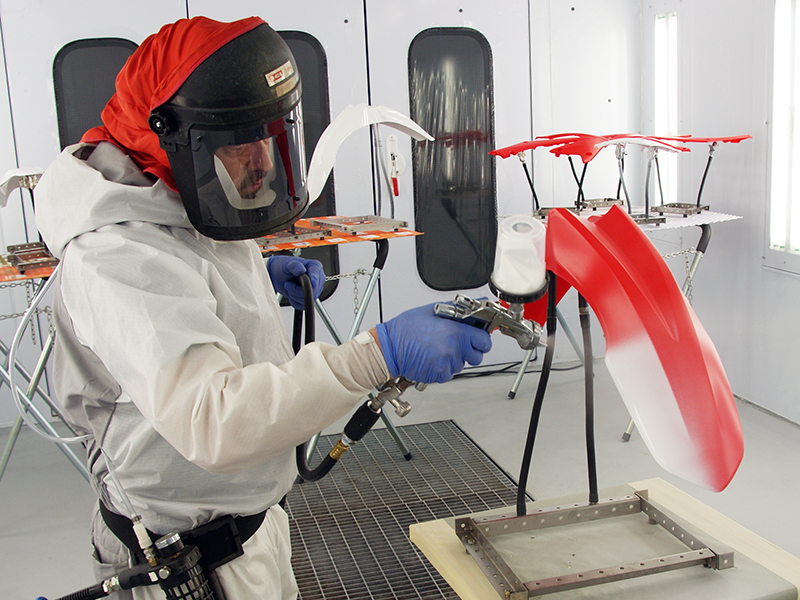 STEP 1: BASECOAT
Parts are first coated with Spectra Chrome's specially formulated white basecoat. The self-leveling formula lays down smooth, flat, and shiny – the perfect base for a show chrome finish.
STEP 2: METAL SPRAY
A unique water-based silver solution is applied next, using a specially designed dual-nozzle spray gun. The silver mist lays down flat and builds up reflectivity to a brilliant, perfect mirror shine.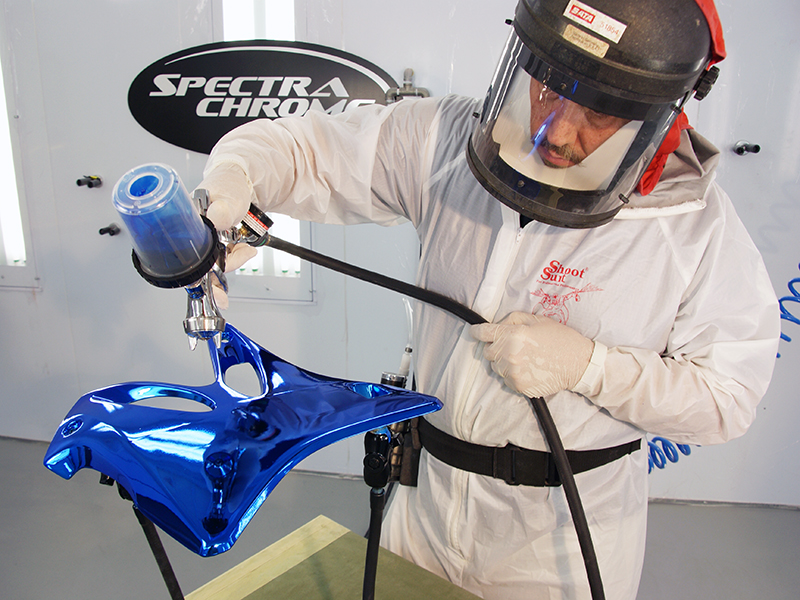 STEP 3: TOPCOAT
An ultra-durable automotive clearcoat seals the silver finish and provides incredible UV resistance and unmatched durability. This clear topcoat can be tinted to any shade of the spectrum!
Spectra Chrome is trusted by the world's most distinguished companies. Our finishes are synonymous with uncompromising quality and unmatched durability – our list of renowned clients speaks for itself! Take a look at what sets Spectra Chrome apart: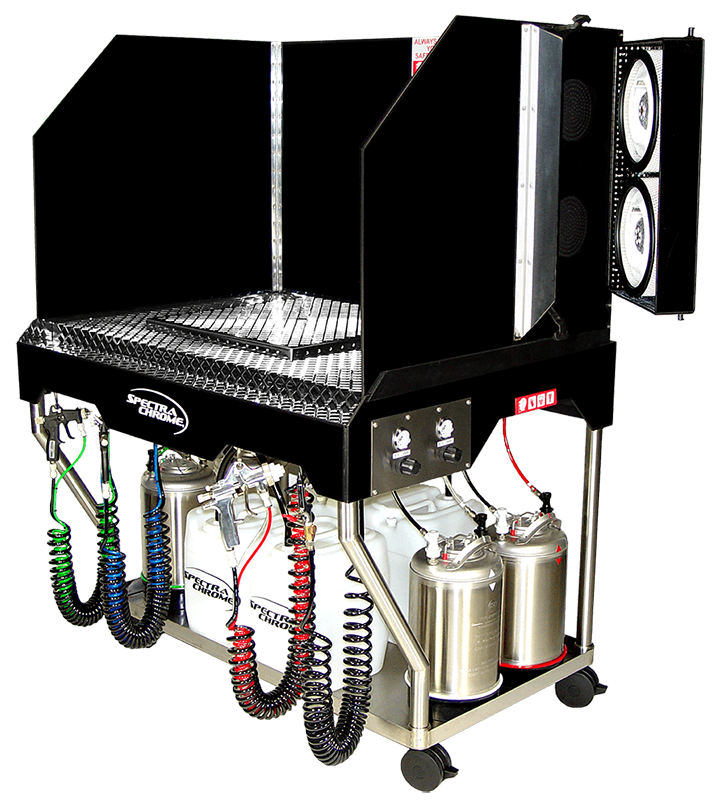 INDUSTRY LEADING
EQUIPMENT & ACCESSORIES
Precision engineered and hand-built using the highest quality components, our patented "spray-on" chrome systems set the industry standard. We offer a full range of systems; allowing our customers to take advantage of any market.
We have also developed a lineup of useful accessories that are purpose-built for the Spectra Chrome process; to help our customers maximize the efficiency of their spray-on chrome operation.
---
INNOVATIVE CHEMISTRY:
UNMATCHED PERFORMANCE
Our proprietary chemistry produces a flawless finish that's engineered to last! Spectra Chrome is as durable as an OEM automotive finish – it will hold up just like the paint on your car. And most amazing of all, Spectra Chrome is the only chrome product in existence that remains completely flexible on vinyl and polypropylene.
Proven UV resistant topcoat formulations mean that Spectra Chrome will never yellow or fade in the sun – and amazing intra-layer adhesion prevents chipping, peeling, or flaking. We've put our finish through every test we could think of – and the results speak for themselves!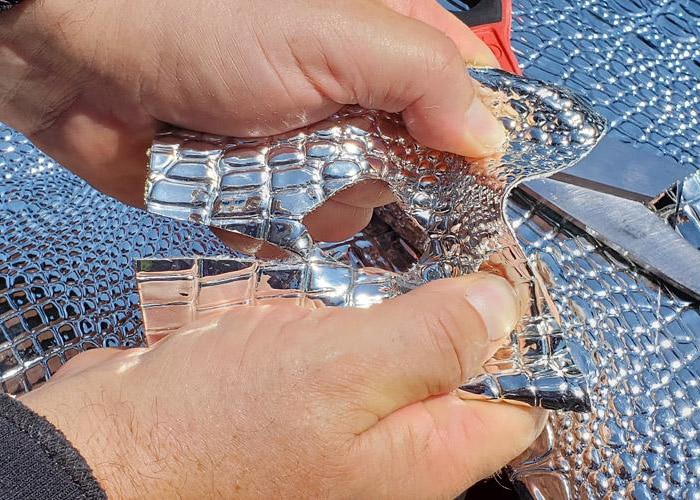 ---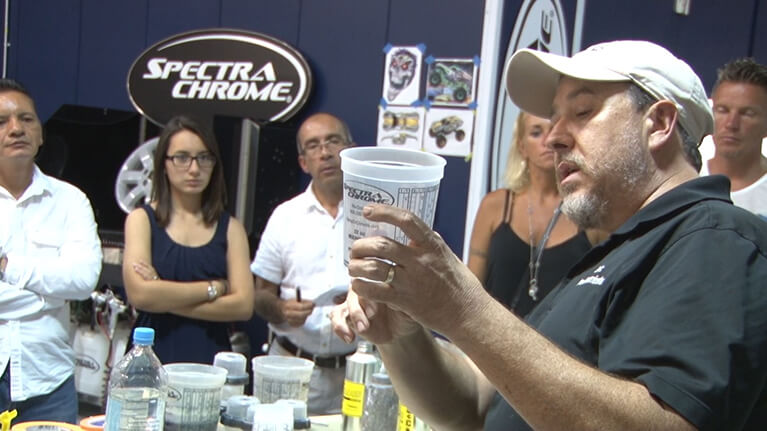 WORLD-CLASS
SUPPORT & INSTRUCTION
We pride ourselves on the quality of our customer support. Before, during, and especially after the sale; we're here to help you succeed! Come down to Florida and attend a hands-on training class, taught by our expert trainers who spray Spectra Chrome every day.
If you can't make the trip, we offer our amazing, totally comprehensive Training Online. And if you'd like personalized, one-on-one instruction in your own shop; our master trainers can even travel anywhere in the world to come to you.
---
FAQ
Check out our FAQ to learn all about the Spectra Chrome process!
Have Questions?
Get in touch with us today – our friendly representatives are happy to assist!
Financing Options
We'll help you get the equipment you need with financing options to meet every budget.