CHEMISTRY:
TOPCOAT
---
Spectra Chrome has developed two topcoat formulations – used in tandem, they produce maximum performance and durability of the final finish. Our Topcoat 311 can be tinted to any color of the spectrum, while our new Topcoat 211-MAX is designed as a final, tough-as-nails protective coating for the Spectra Chrome finish. Achieve amazing reflective colors of chrome with superior durability and adhesion!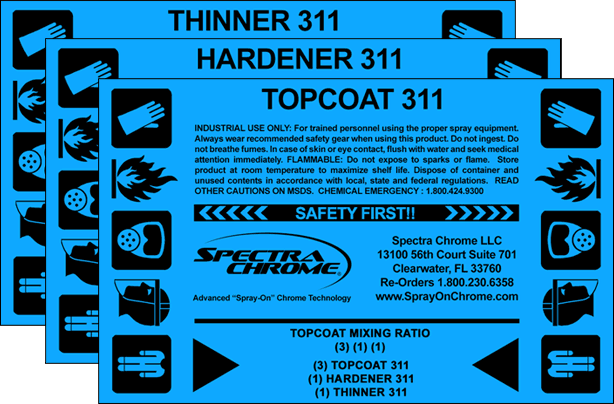 ---
TOPCOAT 311
Topcoat 311 is a high quality automotive-style urethane clear that consists of three components – mixed in a ratio of 3:1:1 – before spraying. Applied over the silver Metal Spray layer, Topcoat 311 can be tinted to any color of the spectrum.
Increased flow-out characteristics
Enhanced UV protection
Improved scratch and impact resistance
Increased resistance to solvents
Fast air-dry time
---
REFLECTIVE METAL OF ANY COLOR!
With every system purchase, Spectra Chrome includes a 7 pack starter set of color tints – red, orange, yellow, green, blue, violet, and black. Simply add these tints to the topcoat and offer a complete spectrum of reflective colors.
A chrome finish is always popular, but adding colors of chrome provides new customizing options that never existed before. Create a unique look – increase your profits by giving your customers individuality and style!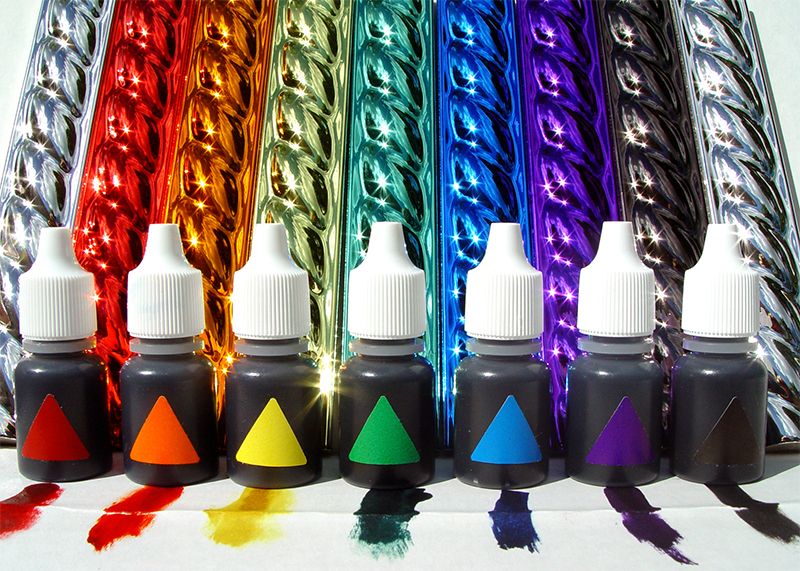 ---
NEW
TOPCOAT 211-MAX
---
Enhanced durability for the harshest environments! New Topcoat 211-MAX has been specially formulated as a final, colorless protective coating for the Spectra Chrome finish.
Topcoat 211-MAX is applied on top of the tinted Topcoat 311; for uncompromising protection against impact, scratches, and UV. Accellerated weather testing results show unmatched UV resistance – proven never to yellow!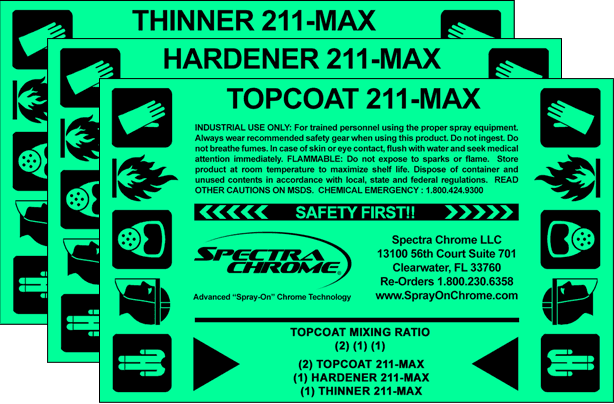 ---
TOPCOAT 211-MAX PERFORMANCE
Make your final product tough-as-nails!
Provides increased UV resistance over Topcoat 311
Ideal for use in saltwater marine applications
Unmatched scratch and impact resistance
Provides a richer, glossier finish with more depth
Gasoline resistant – ideal for motorcycle gas tanks
PROVEN DURABILITY
We are so confident in Spectra Chrome's durability, we want you to test it for yourself – before you buy. Order your Spectra Chrome sample package today!