HV-T SYSTEM


ADVANCED FEATURES
---
The Spectra Chrome HV-T System is our flagship and most popular model. Its patented design integrates specialized spray equipment into a portable metalizing booth. It is the only system on the market that provides an all-in-one solution for spraying production parts and collecting material runoff.
The HV-T also features our Eliminator® backsplash design that evacuates overspray and ensures applicator comfort and safety during metalizing. The HV-T system can also be upgraded with a second set of guns for spraying larger, more complex parts.
With unmatched versatility and performance, the HV-T is the ideal system for even the most demanding spray-on chrome applications.
HV-T SYSTEM
Part # SCP-600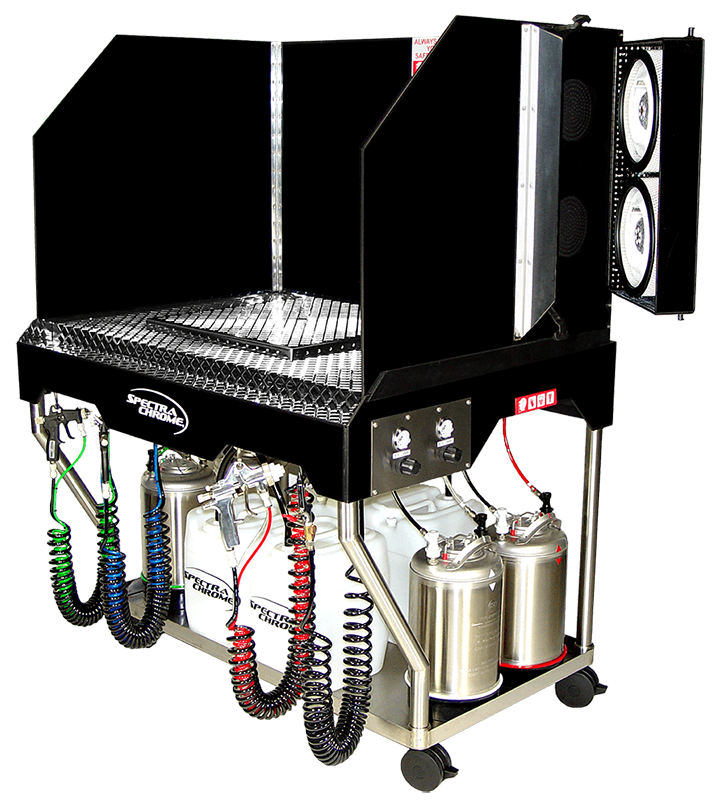 Removable Folding Backsplash
Stainless Steel Spraytable Grating
Dual-Nozzle Metal Spray Gun
Fully Adjustable Pressure Regulation
Integrated Eliminator® Fans
Runoff Solution Collection
Retractable Air and Fluid Lines
Stainless Steel Pressure Tanks
HV-T System
U.S. Patent 7,156,919
---
CASE STUDY
TITANIC: THE ARTIFACT EXHIBITION
See how the HV-T was used to coat more than 350 parts of a scale replica of the RMS Titanic's grand staircase – including the actual cherub statue used in the 1997 blockbuster film, Titanic. These parts are on display as part of Titanic: The Artifact Exhibition – with four permanent installations in the United States and Canada.
NEW
HV-T DUAL GUN UPGRADE KIT
---
When silvering larger parts that have a complex geometry, metalizing can be made easier by using two silvering guns spraying at the same time (as featured on our HV2 system).
We are pleased to now offer a dual gun upgrade kit for our most popular spray-on chrome system, the HV-T. Adding a second set of guns to the HV-T system can make even the most challenging parts easier to spray.
HV-T DUAL GUN UPGRADE
INCL. 3 GUNS & MOUNTING BRACKET
Part # SCP-618